Sparkling Star of David Bangle Bracelet - (Sterling Silver or Gold)
Secure Checkout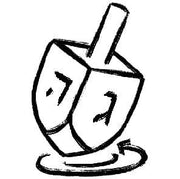 Easy Returns
Quick Shipping
Description

When you want to Immerse yourself in the harmonious blend of faith and fashion: wear an exquisite Jewish Star Bangle Bracelets. These beautifully crafted treasures offer a divine touch of Judaism, celebrating tradition and elegance in every detail.

Each bracelet embodies quality and grace, destined to be passed down through generations. Whether you're seeking a meaningful bat mitzvah gift or aiming to infuse everyday elegance into your attire, these bangles are the ideal choice.

Their sleek and modern design effortlessly merges tradition with contemporary style, making them a versatile accessory for any occasion. Elevate your fashion with a captivating Jewish Star Bangle Bracelet.

Designed to fit a standard wrist from teens to women
Push pin clasp
Gold: Plated in 14k gold over 925 sterling silver
Silver: Crafted from premium sterling silver, these bangle bracelets offer lasting quality and timeless elegance for every moment.
Cubic zirconia gemstones

Caring For Your Jewelry
Jewelry is delicate and should be cared for accordingly. To extend the life of your jewelry, please follow these care instructions.


Take off your jewelry before your daily rituals such as -- showering, applying lotion, and perfume, exercising, washing dishes, etc.
Before bedtime, lay your jewelry out flat on a fabric surface to avoid tangling and/or scratching.
To clean your jewelry, use a soft toothbrush with dish soap and gently scrub the metal and stones. We do not suggest an ultrasonic cleaner.
Use the cleaning cloth provided.
Do not clean any semi-precious gemstones or pearls with chemicals, abrasives, or solvents.
More about Alef Bet
In 1996, Paula started Alef Bet Jewelry to disrupt the boring, dated Jewish jewelry that was on the market at the time. Empowered by the constant request of customers to create more and more designs of modern jewelry with a religious and spiritual feel, while maintaining a modern and fashionable look, she set out to fulfill your request. Today, Paula is joined by her daughter, Alissa and the two are inspired by current jewelry trends, but with a twist.

The designs have to touch your soul, create a personal story, or show your faith all without compromising style and quality. With jewelry durable enough to wear every day, there is no reason not to add a piece Alef Bet jewelry to your current line of accessories.