Love Necklace with a Sparkling Star of David - Silver, Gold or Rose Gold
Secure Checkout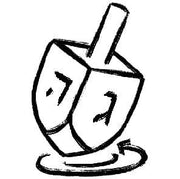 Easy Returns
Quick Shipping
Description

A sparkly Star of David replaces the "o" of the LOVE necklace to show your fashionable faith-based love ❤️

Dainty, delicate, simple, cute, meaningful....perfect!

A beautiful gift. Choose from silver, rose or yellow gold.  

Sterling silver or dipped in 14k gold
Stone: Cubic Zircon
16" chain with a 2" extender, allowing the necklace to fit most necklines
More about Alef Bet
In 1996, Paula started Alef Bet Jewelry to disrupt the boring, dated Jewish jewelry that was on the market at the time. Empowered by the constant request of customers to create more and more designs of modern jewelry with a religious and spiritual feel, while maintaining a modern and fashionable look, she set out to fulfill your request. Today, Paula is joined by her daughter, Alissa and the two are inspired by current jewelry trends, but with a twist.

The designs have to touch your soul, create a personal story, or show your faith all without compromising style and quality. With jewelry durable enough to wear every day, there is no reason not to add a piece Alef Bet jewelry to your current line of accessories.
Love the design but very delicate
I really
Loved the necklace. Wore it
A
Few
Times and one small
Tug while taking a shirt off And it ripped. It's
Currently being fixed and I have no
Clue what it will cost. It is delicate. Guess I was
Hoping it was
A
Bit stronger
I love it!!
I ordered this necklace to wear everyday as I was afraid my grandmother's necklace that I had been wearing would be damaged. I put it on as soon as it arrived and I haven't taken it off. I can easily sleep in it, do yard work, shower, etc., and it feels good and looks beautiful. I wear it proudly.
Perfection
I haven't taken it off since it arrived. It's compatible with a 3in extender and a 6 in one. I love it and it makes me feel like a princess.
Pretty necklace!
Pretty necklace and reasonable price. I got it as a bat mitzvah gift for a friend's daughter.