Mini Chai Necklace in 14k Yellow Gold
Secure Checkout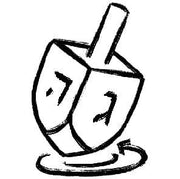 Easy Returns
Quick Shipping
Description

Absolutely adorable tiny chai Hebrew charm necklace.  A simple and minimal designer necklace to wear 24/7 that blesses you with a long and healthy life.

Handcrafted from 14k yellow gold.

14k yellow gold 
1/4" pendant
16" chain included

Necklaces are sent from the artist to you. Item is custom made; please allow 4 weeks for the necklace to ship. EXPRESS Shipping is not available.
More about Alef Bet
In 1996, Paula started Alef Bet Jewelry to disrupt the boring, dated Jewish jewelry that was on the market at the time. Empowered by the constant request of customers to create more and more designs of modern jewelry with a religious and spiritual feel, while maintaining a modern and fashionable look, she set out to fulfill your request. Today, Paula is joined by her daughter, Alissa and the two are inspired by current jewelry trends, but with a twist.

The designs have to touch your soul, create a personal story, or show your faith all without compromising style and quality. With jewelry durable enough to wear every day, there is no reason not to add a piece Alef Bet jewelry to your current line of accessories.
It's perfect
The quality of the jewelry is really great. I was looking for something noticeable, ut not gaudy or tacky. This came and it's perfect- delicate but visible, sits near the collarbone, but hasn't snapped if it gets wrapped around hair. I never take it off! It also came WAY faster than I was expecting.
Lovely but tiny
I originally bought this to give as a gift, but when it arrived, I was surprised at how truly small it is. The picture is very deceiving. This chai is beautiful and delicate, but very, very small. I would have been embarrassed to give it as a gift to anyone except a baby, so I wound up keeping it. I do wear it myself, however, so please don't get the impression that it's not a nice piece. Just small......
Mini Chai
It is perfect! Exactly what I wanted!
Mini Chai Necklace in 14k Yellow Gold