Red Cord Bendel Bracelet with Gold or Silver Hamsa
Secure Checkout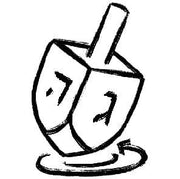 Easy Returns
Quick Shipping
Description

Lucky hamsa charm will stop anything harmful coming your way, along with a red string bendel bracelet for double the protection. Delicate but durable enough for everyday wear.  Makes a great friendship bracelet, so pick one up for a friend too! 

Comes gift wrapped and has a description card telling the story of the red string. Choose gold or silver hamsa.

Metal: sterling silver or gold-plated
Charm Size: 1/2"
Bracelet Length: 7" standard
Material: String
More about Alef Bet
In 1996, Paula started Alef Bet Jewelry to disrupt the boring, dated Jewish jewelry that was on the market at the time. Empowered by the constant request of customers to create more and more designs of modern jewelry with a religious and spiritual feel, while maintaining a modern and fashionable look, she set out to fulfill your request. Today, Paula is joined by her daughter, Alissa and the two are inspired by current jewelry trends, but with a twist.

The designs have to touch your soul, create a personal story, or show your faith all without compromising style and quality. With jewelry durable enough to wear every day, there is no reason not to add a piece Alef Bet jewelry to your current line of accessories.
Beautiful Red Corded Bracelet
I love the bracelet! Unfortunately it's very small. It would fit a young child. I might suggest having sizes.
Hi Rachel. We may be able to get the artist to adjust it for you. Please feel free to check with our Support team at shalom@Moderntribe.comm
Lovely Red Bendel Bracelet
This is a well made bracelet that looks great on my wrist and hopefully will last a long time.
Lovely bracelet
Very well put together and great quality! You can tell they actually pay attention to detail. I will be buying more in the future .
Great! I had one like
Great! I had one like 10 years ago and it broke, so glad I was able to order a new one.
They really are classics!