Oy Vey Earrings in Brass
Secure Checkout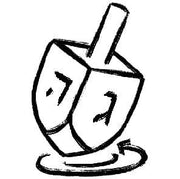 Easy Returns
Quick Shipping
Description

Dainty, hand Stamped, circle shaped, brass earrings that read "OY VEY". Let's face it, there are so many people that make you want to shout this from the roof tops!! Now you can wear your favorite yiddish sentiment and smile.

All the details:

100% handmade from start to finish. 



These earrings fit into 8mm circle


Hand-stamping is a three step process:

1. Each letter is hammered into the brass individually. In some cases, each earring piece has received 3-4 letter hammering's.

2. The phrase or word is then hand-dyed with black ink.

3. The pieces are then polished free of the ink that has bled from the phrase.


All hand stamped work will look similar to this, but due to the nature of stamping, will be unique to your pair.

All Grey Theory Mill earrings are made with Hypoallergenic, Surgical Grade A, Titanium Earring Wire.

Titanium has no traces of nickel and is the premier metal for sensitive ears, which is why this metal is used for surgical instruments.


Earrings are NOT waterproof. Please remove earrings before swimming & bathing as water temperature and chlorine could compromise the bond between earring piece and post.



Raw brass will naturally patina in color over time. If you prefer a bright gold-brass color you can rub them with a jewelry polishing cloth or brighten with lemon juice. A sample of jewelry polishing cloth is included with all brass earring purchases.

Earrings that say exactly what I am thinking so often
I LOVE these small earrings that spell out my favorite saying of all time. I put them in my second holes and have just left them there. I can still wear my other earrings in the first holes and these are perfect to quietly sit alongside any others I wear.
Oy vey!
These earring are adorable. A friend has them and when I saw them here, I have to get them for myself. Don't wear to shower/swim (as indicated on the packaging), and I also recommend not sleeping in them.