Dreidel Argyle Socks
Secure Checkout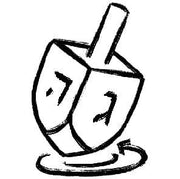 Easy Returns
Quick Shipping
Description

Start Hanukkah off on the right foot with these fun and festive argyle-print dreidel socks! 

One-size fits most
Short crew length
100% combed cotton
Machine Washable
More about Midrash Manicures
Midrash Manicures combines Jewish education and creative products to make Torah more meaningful to you.
Since their launch in 2011, Midrash Manicures has inspired thousands of individuals in their journey toward creative religious expression.
Rabbi Yael Buechler, Founder of Midrash Manicures, has been painting Jewish nail art on biblical and holiday themes for the past twenty years. Her manicures have been discussed by celebrities including Jon Stewart and Barry Manilow and have been featured by The New York Times. She has expanded her nail decal line to include clothing, phone stands, hair accessories and more.
Great socks
Comfortable and fun Hanukkah socks
A great Hanukkah gift!
Bought 3 pairs—gave 2 as gifts, kept one for myself! Everyone loves them. ModernTribe really delivers!
Dreidel Socks for my son
It's so hard to find holiday socks for men - I got him a pair for (I think) Passover) and now these...but he won't get them until Thanksgiving so I hope he likes them. I do!