Maccabean Manicures Hanukkah Nail Decals
Secure Checkout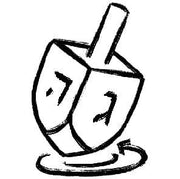 Easy Returns
Quick Shipping
Description

Get festive this Hanukkah from your fingers to your toes! Have the best latke-flipping manicure on the block. Hanukkah decals from Midrash Manicures include Judah Maccabee, dreidels, an adorable latke, and even a Jewish snowman. Contains 49 decals.
More about Midrash Manicures
Midrash Manicures combines Jewish education and creative products to make Torah more meaningful to you.
Since their launch in 2011, Midrash Manicures has inspired thousands of individuals in their journey toward creative religious expression.
Rabbi Yael Buechler, Founder of Midrash Manicures, has been painting Jewish nail art on biblical and holiday themes for the past twenty years. Her manicures have been discussed by celebrities including Jon Stewart and Barry Manilow and have been featured by The New York Times. She has expanded her nail decal line to include clothing, phone stands, hair accessories and more.
Nieces loved it
sent this to my nieces and they loved it
Thank you, Alexandra! Please tell your friends about ModernTribe.com so we can continue to bring the world hip Jewish gifts! -- Jennie
Adding a little fun to the holiday
Pretty easy to use. Enjoyed adding a little whimsy to the holiday. They lasted a while. Preferred the larger decals.
Chanukah nail decals
My granddaughters love these!
Small
These nail stickers are tiny. Wasn't expecting that