Colorful Gold Evil Eye Bracelet
Secure Checkout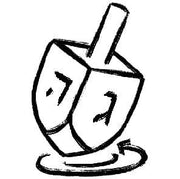 Easy Returns
Quick Shipping
Description

Colorful evil eye bracelets are not only fascinating to look at but represent luck, protection, health, and success. Perfect for layering too. 


The 14k gold vermeil (gold plated sterling silver) lucky eye bracelet measure 8" but can be easily clasped to fit any wrist size.
More about Alef Bet
In 1996, Paula started Alef Bet Jewelry to disrupt the boring, dated Jewish jewelry that was on the market at the time. Empowered by the constant request of customers to create more and more designs of modern jewelry with a religious and spiritual feel, while maintaining a modern and fashionable look, she set out to fulfill your request. Today, Paula is joined by her daughter, Alissa and the two are inspired by current jewelry trends, but with a twist.

The designs have to touch your soul, create a personal story, or show your faith all without compromising style and quality. With jewelry durable enough to wear every day, there is no reason not to add a piece Alef Bet jewelry to your current line of accessories.
Beautiful bracelet
Giving this to my daughter on her 18th birthday. I think she'll love it! I hope it inspires her to stay rooted in Jewish symbols and values as she enters adulthood.
Happiness
Wonderful self gift ! Thank U
Happy Puchase
This is a wonderful little bracelet, light and easy to wear. Very well made, enamel is in both sides so if bracelet turns, you can still see the design. Very pleased!
I already sent an email asking to return it. I have not received a return label yet.
Hi Judy,
We did receive your email where you expressed that the bracelet was too small and what you would like to exchange it for, You wrote to us after hours on Shabbat, so my team got back to you first thing on Sunday with your return label and were eager to help.
The sizes of the bracelet are in the description. It's 8' and can be adjusted. It is a beautiful bracelet and we apologize if it did not fit, however disagree with this rating and value the artist that makes it.
If you have any further issues, you are welcome to speak with me directly and I'll be happy to help: siobhan@moderntribe.com
All the best,
Siobhan
Warding off evil like it should!
Bought this for a friend in a new, fraught with drama job! So far, she's good... Ptoo ptoo ptoo!!