Protection Bracelet with Diamond Hamsa - Red or Black
Secure Checkout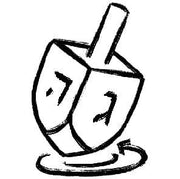 Easy Returns
Quick Shipping
Description

A hand-shaped amulet called a hamsa prevents damage from occurring and the diamonds sparkle and light your way with their beauty. The pendant features a blue sapphire in the center. Sapphire is the color of good luck and good fortune.

Hamsa bracelets are designed to be worn and never taken off. You can adjust it to fit your wrist size with the 14k gold clasp.

This is a meaningful and beautiful gift that can be given to someone special or purchased for yourself. We believe in the importance of self-love and encourage you to treat yourself to something special.

Red is the color of protection
Black is the color of self-power
14k gold hamsa and clasp
3/8" diamond hamsa
Nylon string
Water-safe
Choose bracelet length - 5, 6 or 7 inches with a 1 inch extender

Bracelets are sent from the artist to you. Item is custom made; please allow 4 weeks for the bracelet to ship. EXPRESS Shipping is not available.
More about Alef Bet
In 1996, Paula started Alef Bet Jewelry to disrupt the boring, dated Jewish jewelry that was on the market at the time. Empowered by the constant request of customers to create more and more designs of modern jewelry with a religious and spiritual feel, while maintaining a modern and fashionable look, she set out to fulfill your request. Today, Paula is joined by her daughter, Alissa and the two are inspired by current jewelry trends, but with a twist.

The designs have to touch your soul, create a personal story, or show your faith all without compromising style and quality. With jewelry durable enough to wear every day, there is no reason not to add a piece Alef Bet jewelry to your current line of accessories.