Hamsa Diamond Bracelet - Yellow Gold, Rose Gold, Silver or Black
Secure Checkout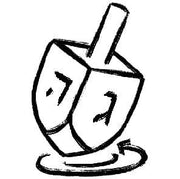 Easy Returns
Quick Shipping
Description

Hamsa Diamond Bracelet sparkles perfectly to wear daily with any outfit.  A beautiful accessory that makes a great gift.

Add this bracelet to your collection, pile and stack it on your wrist and feel the protection and guidance provided by a hamsa good luck charm.

Wear one or all four, mix and match it up!

Safe enough to wear all the time so don't be afraid to swim, shower, or sleep in these.  

Material: Sterling silver and stainless steel with a stainless steel micron wire
Stone: Diamond .03ct
Bracelet Size 7"
Available in Yellow Gold, Rose Gold, Silver or Black

Bracelets are sent from the artist to you. Item is custom made; please allow 4 weeks for the necklace to ship. EXPRESS Shipping is not available.
More about Alef Bet
In 1996, Paula started Alef Bet Jewelry to disrupt the boring, dated Jewish jewelry that was on the market at the time. Empowered by the constant request of customers to create more and more designs of modern jewelry with a religious and spiritual feel, while maintaining a modern and fashionable look, she set out to fulfill your request. Today, Paula is joined by her daughter, Alissa and the two are inspired by current jewelry trends, but with a twist.

The designs have to touch your soul, create a personal story, or show your faith all without compromising style and quality. With jewelry durable enough to wear every day, there is no reason not to add a piece Alef Bet jewelry to your current line of accessories.
Anniversary gift
My wife and I have differing tastes in jewelry (unless it's really expensive) and I'm always looking for something she'll like. When I found the Modern Tribe web-site, this bracelet easily became the best choice. As it turned out, when she opened the package, she immediately told me how much she liked it. I should mention, by the way, that she is a maven when it comes to jewelry. Botom line? She's happy and so am I.
Good bracelet
I like my black Hamsa bracelet. I wear it all the time and it does not catch on anything.