Woman of Valor Candleholders - Gold
Secure Checkout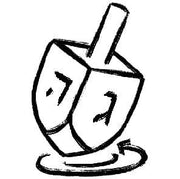 Easy Returns
Quick Shipping
Description

Inspired by the courageous women of the Bible, the Woman of Valor Candleholders are made with love for the independent women of today.

The candlesticks join beauty and meaning based on the poem - 'Woman of Valor' (Proverbs 31) by King Solomon, incorporating the poem's verses as the design concept. The poem is a testament to the strength of women, who trust in themselves and what they believe, fearless in their hearts, and compassionate in their souls. The biblical text receives a physical shape by the delicate use of the words and letters, celebrating our love of the written word with its unique aesthetic features.

The poem is traditionally read before lighting the traditional Friday night candles, as a song of praise to the woman of the house. The candle's flame surrounded by the Hebrew letters creates dynamic shadows and reflections, sparking our sense of appreciation and gratitude to the special women in our life. Made from 24 karat gold plated bronze. The candlesticks come with durable glass cups that can hold any standard tealight candle and can easily be removed for cleaning.

The item is elegantly packed and includes:

A booklet interpreting the biblical story of the 'Book of Ruth' in modern language, emphasizing the role and power of women in this biblical story.
A card describing the item, the significance of the poem, the artist and the creation process.
The 'Woman of Valor' candlesticks
Fits standard tea lights only
Designed and made in Israel

 Dimensions - Height:  5.1 in (13 cm)  /  Width: 2 in (5 cm)

Do not leave any lit candles unattended.
Candle Holders
Beautiful. Purchased for my wife's birthday. We've been married for a LONG time. That definitely makes her (among many other things) a Woman of Valor!
Stunning candleholders
I looked at these candleholders for several months, yes months, trying to talk myself out of buying them. I just could not resist any longer and was not disappointed when they arrived! They are a perfect height and size and look as good, if not better, in the picture. I am so very happy with my purchase.
Beautiful addition to our Shabbat table
I chose these candle holders not only for their gorgeous aesthetic but also as a weekly reminder to my daughters of their strength and beauty as women. We love them! These would also make a perfect gift.
Women of Valor
Perfect for our daughters' wedding. Better than we had hoped for.
Lovely holders
Very unique and lovely candle holders. I highly recommend them!!