Tikkun Olam Panel by Emily Rosenfeld
Secure Checkout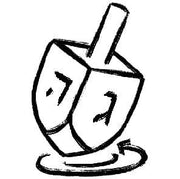 Easy Returns
Quick Shipping
Description

Forged of pewter and mounted on maple, this minimalist Tikkun Olam panel does a wonderful job at spreading the "repairing the world" Commandment, as it is inscribed in Hebrew across the top. To the bottom, the Hebrew reads "Compassion." SIZE: 5.5" high x 4" wide.
Shipping Info

Free shipping on U.S. orders $75+
Orders are made to order and typically ship in 3-5 business days from Emily Rosenfeld's Massachusetts Studio
Standard delivery takes 3-10 business days
Easy returns within 30 days of purchase
More about Emily Rosenfeld
Emily started making her own jewelry in 1991 in Oakland, CA, running her business out of a Murphy bed closet. Now settled in Western Massachusetts, with a view of birch trees and a river she swims in during the summer, her studio is in a converted factory building filled with other artists. She feels continually inspired to develop new designs and play with new materials and techniques.
She is privileged and thankful to be part of the immensely supportive and loving community of craftspeople and crafts buyers. Making her work makes her very happy and she hopes owning it brings a measure of joy as well.
Tikkun Olam Panel
I absolutely LOVE this panel. Emily's artistry is devine. The message on this panel is what is needed in the world today.
Keep creating my friend!!!
As the saying goes "I'll be back" for pieces.
A beautiful piece
I purchased this as a gift, and it was exactly what I had hoped. There was a glitch with shipping, but it was resolved with exceptionally good customer service by Modern Tribe. This is a beautiful piece of art, and I'm very happy with both the purchase and the support.
Beautiful plaque
This is just perfect, beautiful and arrived quickly
Amanda I'm so glad you like it! It's great to hear.