Star of David Tiny Sparkle Necklace - Gold, Silver or Rose Gold
Secure Checkout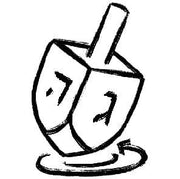 Easy Returns
Quick Shipping
Description

This Star of David Sparkle Necklace is tiny, but that doesn't mean it isn't gorgeous.

The minimal style and petite sizing just means that it packs "more punch." 

Designed with high quality cz stones, these necklaces are designed to be worn daily, to show the world your style and faith.

Sterling silver or 14k gold plate
High quality cubic zircon stones
Adjustable chain length from 16"-18"
6mm star or .23"
More about Alef Bet
In 1996, Paula started Alef Bet Jewelry to disrupt the boring, dated Jewish jewelry that was on the market at the time. Empowered by the constant request of customers to create more and more designs of modern jewelry with a religious and spiritual feel, while maintaining a modern and fashionable look, she set out to fulfill your request. Today, Paula is joined by her daughter, Alissa and the two are inspired by current jewelry trends, but with a twist.

The designs have to touch your soul, create a personal story, or show your faith all without compromising style and quality. With jewelry durable enough to wear every day, there is no reason not to add a piece Alef Bet jewelry to your current line of accessories.
Star of David Necklace
My daughter just happened to ask for a small Star of David necklace around the time I noticed this one in Facebook ads. It was sold out so I emailed and asked if I could be on a list to be notified when it was back in stock. I didn't receive a notification but I saw it was back in stock through Facebook ads and placed my order. When it arrived, I thought it was smaller than I expected (and I knew it would be small) but knowing she wanted something on the smaller sidel, I thought it would be fine. One of the stones was missing so I emailed the company to let them know. They asked me to send pictures so I did and didn't hear anything back. I resent the email and picture and I still have no resolution. I'm disappointed but the necklace is cute.
Received an empty pouch!
I ordered 2, but when I opened the 2nd pouch, it was empty! I need 2 - one for each granddaughter.
Rose Gold tiny Star of David shiny necklace
Very dainty. Perfect color, and just enough sparkle. Is perfect for a Hanukkah or Bat Mitzvah gift.