Star of David Cat Scratching Post
Secure Checkout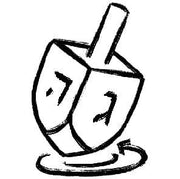 Easy Returns
Quick Shipping
Description

Star of David Cat Scratching Post is perfect for your favorite feline. Makes a great Hanukkcat gift! 4 x 5 inches.
They seem to like it...
While it is impossible to know what is in the mind of any cat or cats, the cats in my life seem to like this gift. They scratch it, they bat it around, they nip at it, and they engage with it. It is not clear whether or not the star of David decoration is a plus or a minus to the cats, because they don't seem to be especially observant in the religion-department. Of course, they are cats.
We love everything about this review. Glad you cats enjoy it!
Great
My girl loves this scratching toy so much that the top is now coming off after two years. She even sits on it so her brother can't use it. When I first got it I thought it was small but she soon took to it. What's even better is the surprise mouse inside.
Cat scratching post
Unique. Love it. Our cats don't scratch on it, but they play near it or with it! Fun item in our household.
Tied for Favorite Toy
We have had this toy now for months and all our cats love it, but one is especially obsessed. She rubs her paws on it, nuzzles it, bats at the mouse, lays her chin on it and generally just guards it as her own private play thing. Huge win.
That is purr-fectly adorable! Thanks for sharing!
Not what I expected
Be certain to look carefully at the dimensions of this product. The cats will play with it a bit, but I thought it was something else. Also, there is a little toy mouse inside (which is a bonus).