Kosher Bone Jewish Dog Toy
Secure Checkout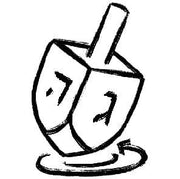 Easy Returns
Quick Shipping
Description

Give Your Pup the Jewish Dog Toy He Deserves.

Ever since your bubbe insisted you put plastic slipcovers on the couch, poor pooch hasn't been able to nosh on the pillows. Throw him one of these squeaky plush kosher bone toys and you'll have one happy kosher dog on your hands!

SIZE: Large: 7" x 5", Medium 5.5" x 3", Small 4" x 2"

CHOOSE: Small, Medium or Large 
So Cute
Gave as gift to friends dog. Dog takes it everywhere.
Kosher doggy toy for our furbaby!
We bought several doggy toys for Pesach for our furbaby, Buster Brown. He LOVES his Kosher plush bone toy! He carries it around wanting someone to play with him! Adorbs!
Aw, so wonderful! Thank you for sharing these adorable pictures with us!
Cute concept
Cute toy but not for an avid chewer. Dog had destroyed in first week.
Everlasting squeaker!
Our dog Beshie takes this bone everywhere she goes. In the car, to the park, to Bubbe's house. It's been washed several times and it still squeaks!!
I didn't realize that it only came with the bone.
Although I think the bone dog toy is adorable, the picture lead me to believe that both the bone and the bagel were going to be delivered. I should have read down to notice that you cold also buy the bagel. Because of that, I was disappointed.