Shabbat Dream Tote Bag
Secure Checkout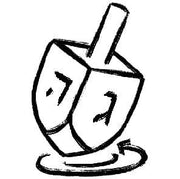 Easy Returns
Quick Shipping
Description

The Shabbat Dream Tote can make any errand feel glam. So grab your tote, call your besties, and head to the mall for a bit of shopping before it's time to light Shabbat candles.


14 x 15 inches

100% heavy cotton canvas
More about Midrash Manicures
Midrash Manicures combines Jewish education and creative products to make Torah more meaningful to you.
Since their launch in 2011, Midrash Manicures has inspired thousands of individuals in their journey toward creative religious expression.
Rabbi Yael Buechler, Founder of Midrash Manicures, has been painting Jewish nail art on biblical and holiday themes for the past twenty years. Her manicures have been discussed by celebrities including Jon Stewart and Barry Manilow and have been featured by The New York Times. She has expanded her nail decal line to include clothing, phone stands, hair accessories and more.
Shabbat Dream Tote Bag
I have received many compliments on the Shabbat Dream Tote Bag. I put a blue ribbon on it to show my solidarity for Israel. I carry the tote bag to Shul proudly.
It's cute but that's it.
Material is extremely thin. Handles are very short. It's so cute I love the print but that's it's. Not super functional. Mostly just for looks.
Hi Dominic! Thank you for your feedback. We appreciate your honesty and will take your comments into consideration for future improvements. If you have any further suggestions or if there's anything we can assist you with, please feel free to reach out at shalom@moderntribe.com.