Schlep Tote
Secure Checkout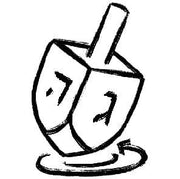 Easy Returns
Quick Shipping
Description

The Schlep Tote (cotton blend with velcro seal) is great for carrying around all your important tchotchkes. Use this tote for daily schlepping at the grocery store, library or wherever - all while reducing the need for environmentally-ruinous plastic bags.

SIZE: 14.5" x 14.5"
More about Barbara Shaw
Barbara Shaw's passion is to artistically present Israel and her Jewish roots in a fresh, creative, and fun way. She loves fusing the ancient with the contemporary. She likes her ranges to have an international feel, yet with a look that says it could only have been produced in Israel.
Barbara grew up in Sydney, Australia and came to Israel in 1986. After searching for gifts and not finding what she wanted, she decided to produce her own. She saw a gap in the market for bold, well designed and packaged gifts; items that are practical and beautiful.
All products are made ethically in her workshop in Jerusalem. Her aim is to touch people's hearts and strike a chord with their heritage and family background.
Holiday shopping
I bought a few things for Hanukkah gifts and loved everything. They were the hit of the gift exchange. Great merchandise and even better customer service.
Thanks so much for shopping with us!
Quality Jewish tote
Are you even Jewish if you've never said schlep 😄? Now we can have it all the time! It holds quite a bit of stuff and feels sturdy. The tote also made it thru a wash this week and came out just fine.
Love it!
I love this bag. It arrived on time and is in good condition. Can't wait to start using it.
To Schlep in Style
There is nothing like a tote bag and one that tells it like it is,is perfect.Declare yourself,Jewish!Take pride in your schlep!
The Awesome Schlep Tote
The schlep tote is awesome!! I'm Kvelling!! I love using it to schlep my things...it's perfect as a purse or for taking stuff last minute like water bottles or an umbrella and it is sturdy so I have used it for beach stuff too!! Everything arrived as described and on time. There were no problems with my order and I would reorder from Modern Tribe again without hesitation!!
Woohoo, Lisa!
Thank you for the stunning review. You have made our day!