High Holiday Nail Decals
Secure Checkout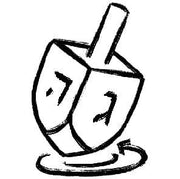 Easy Returns
Quick Shipping
Description

Nail your position as the fashion icon with these high holiday nail decals! Positively Torah-riffic, these handy decals include apples, honey, pomegranates, shofars, and everything else associated with the new year. Don't break a nail trying to get your hands on them at the last minute; order yours today! 44 stickers included, enough for a few manis!
More about Midrash Manicures
Midrash Manicures combines Jewish education and creative products to make Torah more meaningful to you.
Since their launch in 2011, Midrash Manicures has inspired thousands of individuals in their journey toward creative religious expression.
Rabbi Yael Buechler, Founder of Midrash Manicures, has been painting Jewish nail art on biblical and holiday themes for the past twenty years. Her manicures have been discussed by celebrities including Jon Stewart and Barry Manilow and have been featured by The New York Times. She has expanded her nail decal line to include clothing, phone stands, hair accessories and more.
So silly and fun
The stickers lasted longer than my actual polish. They were so cute and gave my friends a good giggle when they saw my nails
fun gift for 1yr old
fun gift for 1yr old
decal on paper face legs etc
Fun nail decals
I bought these as a gift and my daughter-in-law loved them. They will add some fun to their celebration.
super cute
We havent used the decals yet but I can tell you they are super cute and we cant wait to use them for this weekends Rosh Hashanah celebration! Definitely recommend the decals :)
fun for the girls
My daughter loves her Rosh Hashanah nail decals and honey with comb!
Yes, the honeycomb is my daughter's favorite. She begs me to bring it home from the store during this time of year.