Pewter Deco Mezuzah by Emily Rosenfeld
Secure Checkout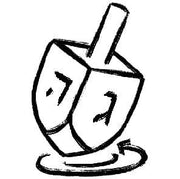 Easy Returns
Quick Shipping
Description

This contemporary mezuzah features a modern art deco design. The shin appears as one of the leaves. Made in pewter. Comes with a non Kosher printed scroll, screws and a description card. Can be hung inside or out. 

SIZE: 4.5" x 1".
Shipping Info

Free shipping on U.S. orders $75+
Orders are made to order and typically ship in 3-5 business days from Emily Rosenfeld's Massachusetts Studio
Standard delivery takes 3-10 business days
Easy returns within 30 days of purchase
More about Emily Rosenfeld
Emily started making her own jewelry in 1991 in Oakland, CA, running her business out of a Murphy bed closet. Now settled in Western Massachusetts, with a view of birch trees and a river she swims in during the summer, her studio is in a converted factory building filled with other artists. She feels continually inspired to develop new designs and play with new materials and techniques.
She is privileged and thankful to be part of the immensely supportive and loving community of craftspeople and crafts buyers. Making her work makes her very happy and she hopes owning it brings a measure of joy as well.
Pewter Deco Mezuzah
The mezuzah goes perfectly with our mid century house. We are very happy with the design, quality, and arrival of the mezuzah.
I loved the mezuzah, I was a little confused that the "updated" scroll I purchased came under separate cover, as there was a scroll with the mezuzah when it arrived.
This was a gift and not knowing I was getting a second "updated" scroll, I almost sent the gift off without it, that would have been very embarrassing!
Thank you very much.
Audrey Kekst
Mezzuzah is beautifully crafted
I bought the Mezzuzah as a gift for my son who is moving into his own apartment and he loved it
Great product and service
Mezuzah was lovely as described and mailing service was prompt (expensive to AK, but prompt).