Peace Love Dreidel Hand-Beaded Garland
Secure Checkout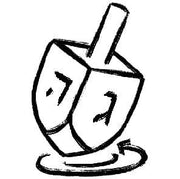 Easy Returns
Quick Shipping
Description

A confetti array of denim blues is accented with white and gold for peace, love, and fun vibes! Our favorite seasonal symbols have been lovingly hand-beaded into seven charms, which come pre-strung onto a gold braided garland cord.

Individual charms perform double duty, and can also be used as ornaments by removing them from the cord and looping a string through their back flap.

Custom-dyed glass beads bring in rich sapphire and deep azure blue to offer new tones of expression within the holiday color palette, as an invitation to reflect and renew your own connection to the spirit of the holiday.

Ornaments 4.25" x 4.25"
Cord 72"
More about Adara Rituals
Adara Rituals is a collection of Jewish ritual objects by Tara Townsend. Fed up with traditional decor, she started reading voraciously about the origins of Jewish rituals, and uncovered shining truths and mystical treasures that lay beneath the ground of our traditions. She learned about Judaism's roots in celestial cycles, in nature-based spirituality, and in an inclusive world-view that deeply embraces the Divine Feminine. Adara, named after her daughter's Hebrew name, provides beautifully crafted pieces to enliven and illuminate your own rituals.