Matzo Ballin' Ornament by Cody Foster
Secure Checkout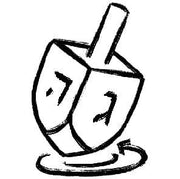 Easy Returns
Quick Shipping
Description

Jewish penicillin in ornament form! The Matzo Ballin' Ornament by Cody Foster has a Star of David on the blue bowl and is filled to the brim with matzo balls and accouterment. Made of glass from the Cody Foster collection.

A perfect gift and addition to an interfaith home for the holidays. Limited edition.
Not culturally appropriate
Matzo balls are not foods Jews eat on Hanukkah…..if you're going to advertise this as being for Hanukkah, at least include the right Hanukkah foods. You 👏 can 👏 do 👏 better.
Cheap looking
The ornament resembles a random bowl of soup with Asian lettering rather than Matzah Ball Soup. Would not recommend. Very cheap looking.
Hi Jessica- oh no! It sounds like maybe you received the wrong item? Please send a photo to shalom @ moderntribe.com and we will take a look for you.
Awesome
So cute. And much larger than expected. Great gift!
Missing print
One of them was printed on and one had no words at all. I didn't use the on with no print. It was a gift. The printed one I loved. Thank you