Hebrew or English Silver Name Necklace
Secure Checkout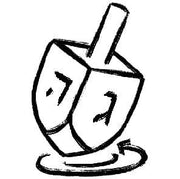 Easy Returns
Quick Shipping
Description

Beautiful sterling sliver necklace personalized with whatever you like! Perfect for birthdays or graduation. 

Hebrew or English name necklace in sterling silver
Need help translating? Write in the notes what you would like the necklace to say and we will send you a proof before making!
Choose from brown or black
19 mm sterling silver disk
Wrap the necklace as a choker or wear it long

Please allow up to 10 business days for delivery.
More about Alef Bet
In 1996, Paula started Alef Bet Jewelry to disrupt the boring, dated Jewish jewelry that was on the market at the time. Empowered by the constant request of customers to create more and more designs of modern jewelry with a religious and spiritual feel, while maintaining a modern and fashionable look, she set out to fulfill your request. Today, Paula is joined by her daughter, Alissa and the two are inspired by current jewelry trends, but with a twist.

The designs have to touch your soul, create a personal story, or show your faith all without compromising style and quality. With jewelry durable enough to wear every day, there is no reason not to add a piece Alef Bet jewelry to your current line of accessories.