Happy Hanukkah ColorMe Pajamas Set - (Kids Unisex Sizes 2-12)
Secure Checkout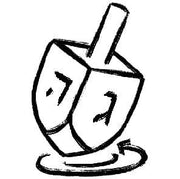 Easy Returns
Quick Shipping
Description

What's Hanukkah without a new set of cozy PJs?

Happy Hanukkah ColorMe Pajamas Set is decorate-your-own sleepwear with adorable designs that kids (and, yes, lots of parents) go crazy to color! The fun is in the details, with original artwork that looks even cuter with vibrant doodles and glow-in-the-dark touches that make wearing these Hanukkah pajamas a delight, too. All are made of our super-soft cotton stretchable fabric in customer-favorite colors, with comfortable cuffs and collars, and no-complaint elastic waistbands that grow with your kids. Our favorite mom-tested fabric markers are included. Available in a variety of sizes for all the children in the family.

Children's sizes 2-12.
More about Sara's Prints
Sara's Prints creates soft, safe, luxurious clothing for children to wear in vibrant colors, fun prints and adorable styles they love.
For more than 30 years, this family-run business has specialized in classic children's pajamas and outerwear that are both cozy and safe. They choose fabrics that are durable, flame-resistant and never treated topically with chemicals. Their dreamy designs are made for small hands to fasten up and slip on easily, with cuffs and collars that are perfectly snug and won't pinch or stretch out. Every one of their products is made to last and pass down, and has a high-quality fit made for real kids.
Fun Gift
My grandsons loved the pajamas, which provided a fun coloring project and much-needed pajamas for the fast-growing boys. They had one request: Make options for short sleeves and short pants. My son cut off the sleeves and pants for his finicky son!
great first night of hanukkah gift
My kids loved these! and it kept them busy....:)
Great pajamas!!
My granddaughters had so much fun coloring and personalizing their own pajamas!
It made a great Hanukkah gift!!
Hanukah color me pajamas
The kids seem to love this gift!!! They look really nice and warm