Gold T-Rex Dinosaur Menorah
Secure Checkout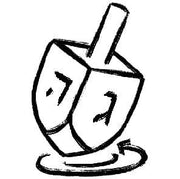 Easy Returns
Quick Shipping
Description

Q: Where do you buy a T-Rex menorah?

A: The dino-store!

Rouuurrrrr! The Gold T-Rex Dinosaur Menorah is a solid plastic Tyrannosaurus Rex fixed to a heavy plastic base and spray painted gold. The candle-holders are made of 9mm metal tubing. The dimensions are 11" x 5" x 2". Fun for the whole family! 

Do not leave any lit menorahs unattended. Keep lit menorahs away from children. Avoid burning in drafts; place on a heat-resistant level surface. This menorah is for display and to be used as decor. Use with candles at your own risk.

More about ModernTribe
Items exclusive to ModernTribe!
Sisterhood TBI Loves the T-Rex
I purchased a couple of these T-Rex menorahs last year for my Judaica shop and again this year. My customers with families love them. They have gone to loving families who proudly display them every year.
Nice, if tight
This is a really fun, unique piece. My daughter loves it! My only two cancers are that it's prone to tipping and the candle holders are too close together so the candles tend to lean & burn together.
Perfect Menorah-saurus
Exactly as described, beautiful and my daughter will lose her mind when she sees it.
Fun Menorah
I ordered 3-one for our family and 2 as gifts, and we used ours last night. It is a bit heavier than it looks (a good thing), and the candles burned nicely. I kept one star because it does kind of look like we just took one of the boys' dinosaurs and made a DIY menorah. That said, I think I would still but it again-it is very fun!
Fabulous fun
Gave this as a gift, huge hits!