Gold T-Rex Dinosaur Menorah
Secure Checkout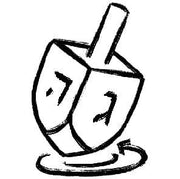 Easy Returns
Quick Shipping
Description

Q: Where do you buy a T-Rex menorah?

A: The dino-store!

Rouuurrrrr! The Gold T-Rex Dinosaur Menorah is a solid polyresin Tyrannosaurus Rex with brass candleholders. 11"L x 6.5"H x 2.75"D 

Fun for the whole family! 

Do not leave any lit aviv judaica menorahs unattended. Keep lit menorahs away from children. Avoid burning in drafts; place on a heat-resistant level surface. 
Super fun
We love this menorah. It is almost exactly as pictured. We have several traditional ones, this one is more us. Ours has a manufacturing issue where the candle cup for the eighth day is attached crooked which caused the candle to melt wax all down the side and didn't look great but since you only light that one once a year we decided to live with it. An improvement on the whole thing would be to space the candle cups a bit more so that the candles don't melt each other.
I love it!
Nice quality and quick shipping!
Gold T-RexMenorah
A nice gift for my 3 year old grandson who loves dinosaurs… but a bit tippy. HE is still too young to light candles but he loved carrying it around during the day. I hope it lasts a few more years.
Dinosaur
My grandson is beyond excited and couldn't wait to light the Dino every night!! It's going to be hard to have to put it away for a year!
My favorite, Bubbi!
I got this for my grandson who is a dinosaur fanatic! He says it is his favorite Hanukkah gift! I think my daughter is going to have a hard time keeping him from playing with it the rest of the year. It was delivered faster than I expected it is beautiful!