Diamond Star of David Earrings - 14k Gold, White Gold or Rose Gold
Secure Checkout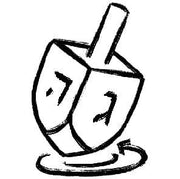 Easy Returns
Quick Shipping
Description

Darling hamsa earrings for your first or second piercing are hand-set with diamonds

Timeless and ageless star earrings are the perfect size for anyone to wear.  For any occasion, celebration, or simply because you love wearing Judaic earrings.  

Ideal to wear in the first or second earring hole

Choose from rose, yellow or white 14k gold and set with diamonds

Set in yellow, white or rose 14k gold
.04 ct diamonds total weight
5mm in size

Earrings are sent from the artist to you. Item is custom made; please allow 4 weeks for the earrings to ship. EXPRESS Shipping is not available.
More about Alef Bet
In 1996, Paula started Alef Bet Jewelry to disrupt the boring, dated Jewish jewelry that was on the market at the time. Empowered by the constant request of customers to create more and more designs of modern jewelry with a religious and spiritual feel, while maintaining a modern and fashionable look, she set out to fulfill your request. Today, Paula is joined by her daughter, Alissa and the two are inspired by current jewelry trends, but with a twist.

The designs have to touch your soul, create a personal story, or show your faith all without compromising style and quality. With jewelry durable enough to wear every day, there is no reason not to add a piece Alef Bet jewelry to your current line of accessories.
Not what it appeared online
I bought these for my Aunt for her special birthday that I couldn't make it to. I sent the picture to my cousin, where I had it shipped. She was like, "These don't look anything like the website shows." They are pretty, but there is no way on God's green earth that I would pay more than $50 for these. My Aunt loved them. However, if she knew I paid $160 for them, she would have insisted that we send them back. I will never tell her because she would be horrified.
Sorry you are not satisfied with the earrings! They are priced fairly for 14k gold and real diamonds.