Crazy Kitty Cat Nip Toys
Secure Checkout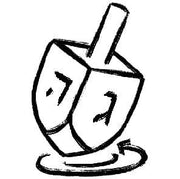 Easy Returns
Quick Shipping
Description

Get ready for a purr-fectly hilarious Hanukkcat celebration with the Crazy Kitty Cat Nip Toys. Your feline friend deserves a taste of the Chewish life too, and what better time than Hanukkah? This bundle includes four catnip-filled toys that will have your kitty kvelling with joy!

Lox the Fish:

A bright green delight that's 3" x 2.5" of fishy fun.

Trayf the Mouse:

Vivid orange and 2.5" x 2" of mouse mischief.

Dreidel:

A tiny blue and white felt dreidel (3.8"x3.5") with a kitten paw stamped on one side and a fish on the other—spin it, kitty!

Gelt:

Hanukkah gelt (2.5" diameter) with the words "In Cats We Trust" embroidered on the front of the yellow plush coin. It's the purr-fect currency for your Hanukkcat's dreams!

Made of high-quality polyester plush filled with catnip, these toys are guaranteed to entertain your feline friend for hours. Just be prepared for some hilarious antics and joyful paw-flicking as your cat indulges in the delightful scent of catnip.

And remember safety first: These toys come packaged in a plastic bag, so please make sure to remove them and all tags before presenting them to your pet.