Ceramic Shabbat Candlesticks by Rachael Pots - Robin's Egg Blue
Secure Checkout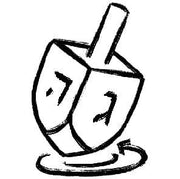 Easy Returns
Quick Shipping
Description

Rachael Pots' Shabbat Candlestick shape mimics that of her menorah mini bottle shape, tying in the idea of oil burning.  For use with standard Shabbat candlesticks.  


Dimensions: 5.5" high, 1" top flare diameter tapered to an inner diameter of .25".  They hold standard 5/8" diameter Shabbat candles.

**All pieces are made individually by hand; therefore, color, size, and shape may vary slightly from piece to piece.**
More about Rachael Pots
Rachael Pots learned her craft in Washington, DC and in Florence, Italy. Since 2013, RachaelPots has grown and evolved and all the ceramics are handmade and thrown on the potters wheel using a mid-range (cone 6) speckled stoneware clay and food safe cone 6 glazes fired in an electric kiln. Rachael works out of her Sunset Park, Brooklyn studio. 
Shabbat Shalom
I bought these candlesticks for my daughter. She saw them online and loved them , but I was looking for something different for her. However, when I saw them, I fell in love, too. They are beautifully made and they are really enhancing her family's Shabbat experience
Beautiful Candlesticks!
These are really, really lovely. We are so pleased!