Butterfly Star of David Necklace - Sterling Silver
Secure Checkout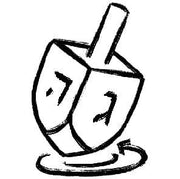 Easy Returns
Quick Shipping
Description

Make a Statement With This Beautiful Jewish Necklace.

Sterling silver CZ convertible Butterfly Star of David Necklace. 

A magnetic necklace can be worn as a Star of David or as Butterflies.

In the time of the Spanish Inquisition, converts to Catholicism who secretly continued to practice their Jewish faith, would wear a butterfly necklace like this, which forms a Star of David when it is closed.

Beautiful gift for a Bat Mitzvah or anyone who wants to wear a beautiful piece of history, culture and tradition.


Adjustable 16-18" chain.

Handmade in the USA
Gemstone: Cubic zirconia
Material: Sterling silver
Pendant height: 3/4 Inches
Pendant width: 3/4 Inches
Eye catching
This star is very eye catching. Can be dressesd down ie with jeans etc or very dressy. The one problem I see wit it is that the star turns into the butterflies portion very easily.
Butterfly/Star of David
I absolutely love this necklace! It's beautiful and I've gotten lots of compliments.
Butterfly necklace
It was a Bat Mitzvah gift and she loves it!
It's all about timing!
I love this new Star of David necklace. It's well made and easily converts to a lovely design if you are in a place where it feels more comfortable not showing any symbols of religion. Unfortunately, given the present times, I've had to change the design back and forth more often than I ever thought would happen. Highly recommend purchasing. It makes a great Bat Mitzvah gift too! Price is extremely reasonable
This is my third and I'm not stopping
I got this necklace a few years ago when I published a Holocaust biography and finally decided to "come out of the closet." First of all, the necklace is quite attractive and so useful. Normally I wear the star, but if, like our ancestors, I don't think it's wise to publicize my Judaism, I quickly turn it into butterflies. I bought another for my daughter a few years ago and just bought one for my best friend who lives in France. Next year I'll get one for my granddaughter for her b'nai mitzvah. A super company and really fast service.