Acrylic Car Mezuzah with Traveler's Prayer - Choice of Color
Secure Checkout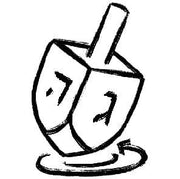 Easy Returns
Quick Shipping
Take your spirituality along for a stylish ride, no matter where you go. The latest edition to the acrylic mezuzah collection is a special design created for your car which is meant to hold the Tefilat Haderech (Traveler's Prayer).  If you love Apleoig Collections' mezuzah collection, you will love this version which comes with the prayer inside, special tape for easy mounting, and a signature box which is always ready for gifting.


Product Details

Material: Acrylic

Includes Tefilat Haderech (Traveler's Prayer)

Includes double-sided tape

Dimensions: 0.7 '' x 2.16'' x 0.6'' 

Choice of rainbow, wood, smoke, black or blue
More about Apeloig Collection
Sisters Daniela and Gabriella Apeloig are the founders of Apeloig Collection. After leaving their native Venezuela, they got married and moved to sunny Miami, FL to begin the process of building a modern Jewish home. Driven by the design to find Judaica products that worked in harmony with the elegant, minimalistic design they love, they created Apeloig Collection in 2014. The two sisters are in constant search for new materials and trends to develop products that will hopefully encourage people to keep Jewish traditions in a stylish and creative way.

Like the rituals, their Judaica products are created to honor the family last name "Apeloig" which has been passed down from generation to generation. Daniela and Gabriela's grandfather, the only member of their family to survive the Holocaust, passed the name down to his daughter and his son, who later became the proud father of three daughters but no sons who would pass on the family name. As they had found creative new ways to honor their Jewish traditions, they found a creative way to pass on their heritage through the family name. And that's how "Apeloig" Collection was born.
A Safer Trip.
The mezzuzeh is a symbol that makes me feel significantly safer when traveling in my car. Knowing that the mezzuzah is there, gives me a visual presence of Ashem's safety.
Pride and fun
I always got a kick out of the car mezuzahs and when I saw the rainbow Pride one I had to get it. It arrived in perfect condition, I never worried since I was buying from Modern Tribe. I love having this mezuzah in my car because I take a minute before I go to work and leave work and it puts my mind in a good place. I didn't have a physical object to do that or remind me to do that before my car mezuzah. My non-Jewish friends absolutely love it as well.