Loved-Ones Names Bar Necklace in English or Hebrew - 1, 2, or 3 Names
Secure Checkout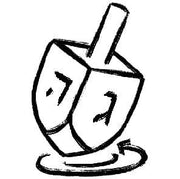 Easy Returns
Quick Shipping
Description

Create a special personalized piece with the Loved-Ones Names Bar Necklace in English or Hebrew. Sterling silver bars are personalized with your name or the name of a loved one, in English or Hebrew, and are accented with one charm of your choosing. Make it your own with gems and charms by adding a Star of David, evil eye, or make it part of our hamsa necklaces collection. Necklaces hang on a 16" or 18" fine-gauge sterling silver rolo chain. SIZE: bar pendants are 3/4" long, charms are 1/4" round.

CHOOSE: Count of Bars: 1, 2, or 3

PERSONALIZE: 

CHOOSE: Length of Chain: 16" or 18"
CHOOSE: 1 or 2 charms: Flower, Heart, Peace, Star, Chai, Star of David, Evil Eye, Hamsa, Blank or No Charm
CHOOSE: Gem Color
CHOOSE: Hebrew or English
Indicate NAME for each bar 

We cannot translate Hebrew for you. Use the key to choose Hebrew letters by their corresponding numbers with commas in between. For Hebrew: use the pictured chart and spell by letter number or name e.g. to order the word Chai, you would put 10, 8 or Yud, Chet.

You can use the website https://my-hebrew-name.com/ if you need help translating. If you put the name in English, it will be printed in English. Make sure the first letter of your name is on the far right. We personalize exactly what you type in that order so please proof-read before submitting.  

Necklaces are sent from the artist to you. Please allow 10 business days before the necklace ships. EXPRESS Shipping is not available. Personalized items are final sale.
Shipping Info

Free shipping on U.S. orders $75+
Orders are made to order and typically ship in 3-5 business days from Emily Rosenfeld's Massachusetts Studio
Standard delivery takes 3-10 business days
Easy returns within 30 days of purchase
More about Emily Rosenfeld
Emily started making her own jewelry in 1991 in Oakland, CA, running her business out of a Murphy bed closet. Now settled in Western Massachusetts, with a view of birch trees and a river she swims in during the summer, her studio is in a converted factory building filled with other artists. She feels continually inspired to develop new designs and play with new materials and techniques.
She is privileged and thankful to be part of the immensely supportive and loving community of craftspeople and crafts buyers. Making her work makes her very happy and she hopes owning it brings a measure of joy as well.
Deceased daughter's Hebrew name plate
It's really teeny. I thought it would be bigger
Kind of Small
I like the necklace overall, but the chain, clasp, etc is awfully small and hard to manage for me. I transferred it to another chain, layering it with another pendant. It might work.
Name Bar Necklace
I love my necklace. i have my 2 grandsons names with a heart charm and its perfect.
Need longer chain
Perfectly fine, but a bit overpriced for what it is….need a choice for longer chain. I ordered longer of two and it was still too short, and it's not like I have a bullfrog neck!
Hi Judith- these are custom made in sterling silver with real gemstones, which is reflected in the price. We offer 16' and 18' chains but can do a custom longer length if you contact us.