Amulet Prayer Wheel Pendent by Emily Rosenfeld
Secure Checkout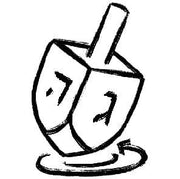 Easy Returns
Quick Shipping
Description

On the bead of this Prayer Wheel, traditional Middle Eastern symbols of protection surround the universal symbol of love. Hamsa, Heart, and Eye. Let these powerful symbols fill you with the courage to explore the uncharted territories both within you and without you. The pewter talisman comes with a card describing the big meaning of this small gift and hangs on a 30" rayon cord.

Shipping Info

Free shipping on U.S. orders $75+
Orders are made to order and typically ship in 3-5 business days from Emily Rosenfeld's Massachusetts Studio
Standard delivery takes 3-10 business days
Easy returns within 30 days of purchase
More about Emily Rosenfeld
Emily started making her own jewelry in 1991 in Oakland, CA, running her business out of a Murphy bed closet. Now settled in Western Massachusetts, with a view of birch trees and a river she swims in during the summer, her studio is in a converted factory building filled with other artists. She feels continually inspired to develop new designs and play with new materials and techniques.
She is privileged and thankful to be part of the immensely supportive and loving community of craftspeople and crafts buyers. Making her work makes her very happy and she hopes owning it brings a measure of joy as well.
Great
A true,y unique item. Arrieved on time too.
Prayer wheel charm
It's nicely crafted, hangs properly on a chain.