Traveler's Prayer Necklace by Emily Rosenfeld
Secure Checkout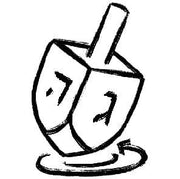 Easy Returns
Quick Shipping
Description

A small but inspired gift, this pewter cylinder holds a traditional English Old Testament prayer of protection. It is a unisex talisman meant to bring solace to those journeying from home. Whether embarking on a literal or a symbolic journey, it is meant to help you feel strong and safe by connecting you to your faith. The talisman comes with a card describing the big meaning of this small gift. It measures approximately 2" and comes on a 30" black rayon cord.


Ensuring Your Traveler's Prayer Fits Perfectly:


Rolling the scroll: Use a toothpick to help tightly roll the prayer.

Inserting: Once rolled, screw the prayer into the necklace's opening. The scroll might protrude slightly, but not to worry!
Securing the top: Screw on the necklace top; it will press down the protruding scroll. Occasionally, you may need to trim the top of the scroll for a snug fit—this is easiest once it's inside the holder.
Shipping Info

Free shipping on U.S. orders $75+
Orders are made to order and typically ship in 3-5 business days from Emily Rosenfeld's Massachusetts Studio
Standard delivery takes 3-10 business days
Easy returns within 30 days of purchase
More about Emily Rosenfeld
Emily started making her own jewelry in 1991 in Oakland, CA, running her business out of a Murphy bed closet. Now settled in Western Massachusetts, with a view of birch trees and a river she swims in during the summer, her studio is in a converted factory building filled with other artists. She feels continually inspired to develop new designs and play with new materials and techniques.
She is privileged and thankful to be part of the immensely supportive and loving community of craftspeople and crafts buyers. Making her work makes her very happy and she hopes owning it brings a measure of joy as well.
Perfect gift for heading off to university!
Both boys loved it!
My partner's one boy was ready to head out on Birth Right Trip to Israel after the Hanukkah he loved this gift and the other is embarking on his life journey in law school- I'd recommend this it's beautiful!
Even better in person
This is a great necklace for anyone. I like where it rests and I don't even notice it. I gets lots of compliments for Jews and gentiles alike haha. It comes with the prayer and was very easy to roll up, insert, and screw the top back back on. I added a dab of super glue into the top when I put back on but I doubt you actually need it. Lovely product that fits my style as a guy who likes to wear necklaces that are not just the Star of David.
Prayer locket
I love the simple beauty and design of the traveler's locket. Ut was a nice surprise to include the prayer as well!