Olive Branch Mezuzah by Emily Rosenfeld
Secure Checkout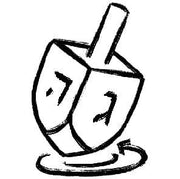 Easy Returns
Quick Shipping
Description

Featuring the symbol of peace and renewed hope, the olive branch, and the Hebrew word Shalom, meaning hello, good-bye, and peace, this mezuzah is loaded with positive meaning and ready to be hung on your door frame. Cast in pewter, it comes with a non-kosher scroll, screws, and a description card.

SIZE: 4.5" long x 1" wide.
Shipping Info

Free shipping on U.S. orders $75+
Orders are made to order and typically ship in 3-5 business days from Emily Rosenfeld's Massachusetts Studio
Standard delivery takes 3-10 business days
Easy returns within 30 days of purchase
More about Emily Rosenfeld
Emily started making her own jewelry in 1991 in Oakland, CA, running her business out of a Murphy bed closet. Now settled in Western Massachusetts, with a view of birch trees and a river she swims in during the summer, her studio is in a converted factory building filled with other artists. She feels continually inspired to develop new designs and play with new materials and techniques.
She is privileged and thankful to be part of the immensely supportive and loving community of craftspeople and crafts buyers. Making her work makes her very happy and she hopes owning it brings a measure of joy as well.
Very Nice!
This was the second mezuzah case I purchased for another front door in an annex to my house. Just like the Songbird one, on which I also posted a review, this is simple, pretty and it looks great at the door post. The pewter finish matches the hardware finish on the door and I really like it. The golden screws add a nice touch to it. I do not mind that the scroll is not kosher. Most mezuzot cases do not even include a scroll. The scroll is the right size, nicely and correctly printed and made of sturdy paper. It fits perfectly inside the mezuzah case. I recently learned a trick for keeping the scroll protected and secure. After rolling the scroll really tight, I roll it again in food film (Saran Wrap). Then I twist the ends like a piece of hard candy and cut the excess. You can even fold the short ends underneath it so it fits snugly in the case. A piece of double tape helps to keep it in place while hanging it.
Housewarming gift to dear friends
I purchased this lovely item as a gift to friends who just built their new home. They loved it. Their home is very modern but I feel this would look wonderful in any home. Nicely made
Lovely Gift
We bought these for new home owners and they loved them!
Olive Tree Mezzuzah
The Mezzuzah was an apartment warming gift to my 19 year old godson. He requested one. He likes it a lot, as does his roommate.
Designer Mezuzah
We absolutely love our new Mazuzah and it looks great on our front door. Although it looked great online, it was much better than we had imagined.