Healing Prayer Wheel Necklace by Emily Rosenfeld
Secure Checkout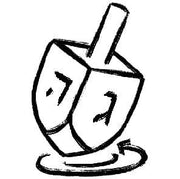 Easy Returns
Quick Shipping
Description

Jewish Prayer Necklace - The Perfect Accessory to Stay Focused on What Matters Most.

This Healing Prayer Wheel Necklace in pewter has three spinning beads on which to meditate. With its text taken from the Mi Shebarakh, the words Heal, Restore, Strengthen and Enliven revolve around the phrase "healing of the body, healing of the soul". Use this pewter wheel to focus the vast power of faith and love towards your own healing, or the healing of someone you love. The talisman comes with a card describing the big meaning of this small gift.

The pendant comes in both an English-only version as well as a Hebrew/English version (pictured). Measures approx. 1.5" on 30" cord.

 
Shipping Info

Free shipping on U.S. orders $75+
Standard orders typically ship in 1-2 business days from our Ohio warehouse and take 3-10 business days to arrive.
Expedited shipping is available and ships the same day if placed before 11:00AM ET.
Easy returns within 30 days of purchase
More about Emily Rosenfeld
Emily started making her own jewelry in 1991 in Oakland, CA, running her business out of a Murphy bed closet. Now settled in Western Massachusetts, with a view of birch trees and a river she swims in during the summer, her studio is in a converted factory building filled with other artists. She feels continually inspired to develop new designs and play with new materials and techniques.
She is privileged and thankful to be part of the immensely supportive and loving community of craftspeople and crafts buyers. Making her work makes her very happy and she hopes owning it brings a measure of joy as well.
Detailed and substantial
I really enjoy this pendant. I wear it as a reminder to pray for someone that I love that is very sick. I love the weight of it and the size of it as well as the detail. It spins and is inviting to touch.
I hope that it's ok that I am Catholic and I wear this. I don't mean any disrespect but the person I pray for is Jewish. The necklace reminds me to pray the Jewish prayer for the sick multiple times a day.
It is a very special piece of art.
Prayer for healing talisman
I purchased this Healing Prayer Wheel Necklace as a gift for a dear, dear friend who had just begun treatment for Cancer. When she received it she called and was overwhelmed by how perfect it was, and that she could have it with her during her treatments. I am hopeful that she finds comfort wearing it and that her treatment progresses well.
Mi Sheberach prayer wheel
One of my favorite Jewish prayers. Beautifully made in necklace form.
Lovely, meaningful gift
I purchased three and intend to purchase more. They are a comforting gift for those facing medical problems as well as the people who love and pray for them.
Healing prayer necklace, mah jongg purse & earrings
Everything arrived in a short period of time. Looks like picture.