Vertical Brass Seder Plate by Gary Rosenthal
Secure Checkout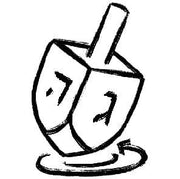 Easy Returns
Quick Shipping
Description

Who says a Seder plate has to lay flat on the table? Gary' Rosenthal's famous brass vertical Seder plate is a gorgeous feature on your Seder table.

1'8″ high, 4.5″ wide, 9.25″ long



More about Gary Rosenthal
Together with a team of talented craftspeople, the late Gary Rosenthal created one of the most popular and unique lines of Judaic art in the country. Combining copper, brass, and steel with brilliant fused glass, the Gary Rosenthal Collection has a contemporary style rooted in tradition. His inspiration came from the rich history of the Jewish people which tells us it's a blessing – a mitzvah – to make beautiful, functional, art.
Work from the collection has been presented to Presidents from Carter, to Clinton, to Obama and celebrities as varied as Bette Midler, John Travolta and Ben Stein. It has been seen worldwide in many fine galleries, private collections, and museum shops.
Artistic seder plates
My wife and I originally saw this seder plate while traveling in Florida. The design was unique with a vertical emphasis rather than the traditional large flat plate that takes up valuable real estate on the seder table. We found this same seder plate at ModernTribe for less money and they also offered a first order discount. We are very happy to have it as it arrived quickly and it was well packed. It will get first use at our seder this April.