Tree of Life Menorah by Ten Thousand Villages
Secure Checkout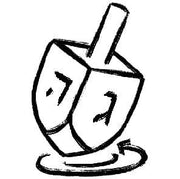 Easy Returns
Quick Shipping
Description

Celebrate growth this Hanukkah with this silver centerpiece. The Tree of Life Menorah is handmade by artisans working with our fair trade partner Noah's Ark.

Aluminum
11" W x 10" H
Handmade in India

Do not leave any lit menorahs unattended.
Stylish but flawed
I really loved the look of this menorah online. Upon arrival it seemed perfect-- nice weight, stylish and contemporary. Sadly, the holes for the candles are tiny. I've got three different boxes of Hanukkah candles and NONE of them fit.
I bought another menorah from Modern Tribe and it's perfect-- candles fit, looked exactly as expected. So it seems it's something about this particular menorah. I like the look of it so much that I'm going to keep it and hope that I can find candles that fit. Just something for folks to be aware of.
Great gift
Bought it as a gift for my son who now lives independently. It matches his shabat candle holders - same tree of life motif. For eight nights we lighted the candles simultaneously through Zoom meetings. Couldn´t have chosen a better gift for him and his wife. Beautiful craft design. Thank you.
Beautiful Menorah, But Needs Modification
This is an absolutely beautiful Menorah, but the holes don't fit standard candles. I modified it by using a 3/8 inch drill bit to expand the holes, and can now use it perfectly.
It's just okay
It looked so much nicer online. The 'leaves' look like flattened circles and the candle holes are way too small. I sat and 'whittled down' the new candles, that I bought at the same time, so that I can now use them and they fit in the tiny holes. I don't think there are any candles small enough to fit without having to modify them.
I would have returned it but all the packaging is gone and it's too much trouble.
I do like the texture and the weight of it.
I hope the pictures help.