Star of David Baseball Keychain
Secure Checkout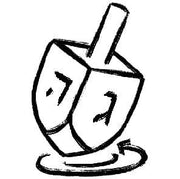 Easy Returns
Quick Shipping
Description

These rugged key chains are handmade from gently used professional baseballs.  Made by a true fan, for the true fan, each of these key chains are made from a MILB/MLB which is deconstructed, de-laced, and then hand-sewn back together, using double stitching to ensure that your key chain will last many years (mine is going on 3 years with no signs of slowing down).  They are then hand-painted with the Star of David to show your Jewish Pride and support of the Olympics bound Team Israel Baseball Team.

The rivet utilized at the top of each key chain also ensures that your key chain will get better with age.  Unlike many gifts, each of these key chains tells a story- perhaps the ball used for your key chain was pitched by a Rookie of the Year or hit by a Silver Slugger Award winner.  The one thing for sure, is that your key chain will let all who see it know that you are a true fan, a fan who gets to the games early for batting practice, a fan who knows how many days are left before pitchers and catchers report to Spring Training. 

Keychains are custom made, so please allow 10 days for delivery.
Shipping Info

Free shipping on U.S. orders $75+
Items are made to order, and typically ship in 1-2 weeks from Baseballiday's California studio
Easy returns within 30 days of purchase
More about Baseballidays
Baseballidays was formed out of the precept that you can never get enough baseball. Likewise, the products are all designed to encourage interaction between fellow baseball fans. If you are a true fan and you see someone sporting a pair of baseball cufflinks, a bracelet, or a tie-tack made out of original baseballs, you are going to talk to them, right? The answer is "yes". Baseballidays is for the true fan who demands authentic, unique, and handmade baseball items.