Spinning Top Gilded Brass Dreidel by Israel Museum
Secure Checkout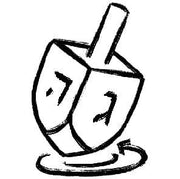 Easy Returns
Quick Shipping
Description

Inspired by a spinning top from the esteemed Bezalel School of Arts and Crafts between 1910-1920, this dreidel pays homage to beloved Hanukkah traditions. Rooted in European games of chance, the dreidel's spinning is a cherished Hanukkah activity for children. Each of its four sides bears a letter, collectively forming the acronym for "A great miracle occurred here," referencing the Maccabees' triumphant stand against Antiochus's forces and the subsequent Temple reconsecration in Jerusalem. Notably, this Bezalel-crafted dreidel, intended for the Diaspora, showcases the letter shin (representing "there") instead of peh (meaning "here").

Made in Israel
Origin: Bezalel School of Arts and Crafts, 1910-1920
Collection: Alan and Riva Slifka, Israel Museum
Dimensions: Approximately 1.97" × 1.97" × 1.18"
More about Israel Museum
The Israel Museum in Jerusalem is the largest cultural institution in the State of Israel and is ranked among the world's leading art and archaeology museums.