Safed Handcrafted Hanukkah Candles - Multicolor Deluxe
Secure Checkout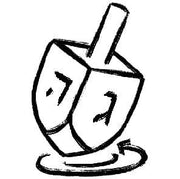 Easy Returns
Quick Shipping
Description

These beautiful Hanukkah Safed Handcrafted Hanukkah Candles come in a box of 45, enough candles to last all 8 nights of Hanukkah. They are carefully dipped and hand-decorated with an overlay design by skilled artisans in the ancient city of Safed in Israel. Dripless. Burn for more than an hour.

SIZE: Approx. 5.75" tall with varying widths 4/16" to 6/16".

45 candles for all 8 days of Hanukkah.
Sized to fit most menorahs (9mm).
Burns clean and bright for approximately one hour.
High quality, lead - free wicks.
Never leave a burning candle unattended.
Trim wicks to ¼". Note:
Placing lit candles near a draft or too close to each other may cause dripping.
Prettiest I've Found
These are beautiful candles, with ample wick to be able to light them safely in the menorah. They are narrower than candles I've purchased in the past so I had to slightly melt the bottoms so they wouldn't fall over.
Safed Handcrafted Candles
I was very happy with the quality of the candles. They burned nicely-no sputtering! The colors are beautiful as well AND I am happy to support an Israeli company. Would definitely purchase again.
Broken candles
The candles burned beautifully, but they should have been packaged better so as not to arrive broken in a few pieces
Why did it take 6 weeks, in Israel, to deliver from Tyveria Post Office to Moshav HaZore'im ?
Tracking Number: CB167650456US
Latest Update
Your item was delivered in ISRAEL at 1:00 pm on December 14, 2022.
ISRAEL
Attempted Delivery Abroad
ISRAEL
October 31, 2022, 8:05 am
Perfect
These are beautiful. None were broken and they burned cleanly.