Pomegranate Gold Leaf Candle
Secure Checkout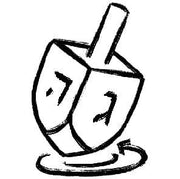 Easy Returns
Quick Shipping
Description

In celebration of Rosh Hashanah and the start of Autumn, we have created a lifelike Pomegranate candle encrusted with real gold leaf! Each Pomegranate is made with soy wax, a recycled cotton wick, and has been infused with Oud, Bergamot, and honeysuckle essential oils for a slightly floral scent that balances sweetness and spice.


We have carefully sheathed each Pom with real 23.5ct gold leaf to compliment the deep maroon of the fruit and to celebrate the significance of the holidays.

The first time you light your Pomegranate candle is the most important, as you want to establish a 'burn pool', which will ensure a longer and more even burn.
Trim your wick very short, around 5mm, and place on a heat proof dish to catch any drips. The first 10 minutes of your Pom's burn will likely be quite drippy, give it time and a pool will form for the candle to burn down rather than out.
Once a burn pool has been formed and dripping has ceased, we recommend burning for a minimum of 1 hour and a maximum of 4 hours at any one time.
Burning for longer than 4 hours may cause the Pomegranate to get too hot, and lose its shape.

Make sure to trim the wick to 5mm again before relighting.
This candle is vegan.
Weight: 350g / 12oz
Burn time: 25+ hours
Includes one candle

This candle is vegan and 100% soy wax manufactured in Europe, natural toxic-free dyes, high quality essential oils and recycled cotton wicks. Candles are made in small-batches in the UK.