Pomegranate Candlesticks by Anat Basanta
Secure Checkout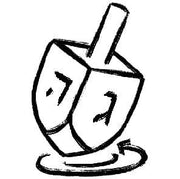 Easy Returns
Quick Shipping
Description

A symbol of an abundance of wisdom and good deeds, the pomegranate has been used for centuries to adorn Jewish ritual objects. In the biblical "song of songs" and in Greek mythology, there are allusions to the pomegranate's powers. This candlestick can be displayed in closed form, as a sculpture, or in open form to hold two candles. Original design by Anat Basanta Made in Israel.

Available in aluminum.

Measurements: H: 3.85"; W

: 3.25"; L

: 3.25"

Comes with two candles

Fits candles 8-10 mm in diameter (Chanukah candles are about 9 mm) so they work well
Beautiful pomegranate but not usesful as a candle holder
I would give it 5 stars if it were a single piece, because it really doesn't work as a candle holder.
Beautiful, but not the most practical
This piece is very pretty on the mantelpiece, but I do have some issues with its functionality. It's marketed as candleholders for Erev Shabbat, but due to its size is only capable of holding very small candles. Also, the candles don't really fit neatly into the holders, you have to melt the bottoms of them in order to get them to stay. Finally, due to the piece's sculpturing, the holders can be somewhat wobbly. I have to prop them up with something if I want to be sure they stay stable during use. I think it's a very pretty piece and looks lovely on display, but in terms of functionality and weekly use, I'm not sure it's the most practical item.