Peloton: Exodus Edition
Secure Checkout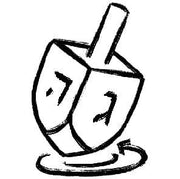 Easy Returns
Quick Shipping
Description

A workout of biblical proportion.

No more wandering around aimlessly searching for a workout class. The Peloton: Exodus Edition kick-starts your cardio just like matzah kick-starts your IBS. Add classes like camel-riding, sea-splitting, synchronized davening and more to your routine and get the most immersive fitness experience right from the comfort of your home or shul.

Sweat. Commiserate. Eat Manna. Repeat.

From escaping Egypt to riding your way into the Promised Land, there's something for everyone. With prophetic instructors and an endless 40-year workout you'll have a commandment over your exercise routine in no time.

Why is this workout different from all other workouts?


 

THE STAFF WITH THE WOODEN STAFF
Ride your best with live encouragement from Moses and his assistant Joshua or favorites from the Old Testament like Sarah, Rebecca, Leah, Rachel and even special guests like Elijah!




THE FOUR CLASSES
One class type would have been enough- Dayenu! Choose from more difficult class levels if you want a bush-worthy burn, or our calmer Israel-lite classes.


ON-DEMAND MANNA
Classes stop before the bread has had time to rise. Earn plagues for completion!


LET MY PEOPLE SCHVITZ
Keep your workout fresh with different themes and music, like the nasal-clearing Hillel Sandwich ride or exclusive Go Down Moses and Dayenu remixes.
More about ModernTribe
Items exclusive to ModernTribe!