Passover in a Box Kit
Secure Checkout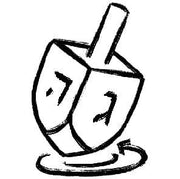 Easy Returns
Quick Shipping
Description

The Passover in a Box Kit includes (almost) everything you need to celebrate the holiday with your loved ones whether you're celebrating the holiday for the first or the fifty-first time.

The box includes five experiences plus bonuses:

Days United Edition Haggadah: Days edition Haggadah is simpler, clearer, more engaging and fun. Everyone will be able to follow along in English, Hebrew, or transliteration. 72 color pages + 42 stickers.

Tetromino Seder Plate: Our 'Tetromino' Seder Plate will add playfulness to your traditional Passover table. Limited series production, designed by the Days artists. Select premium wood veneer.

Matzah Cover and Afikomen Bag Set: We commissioned Batia Kolton, a beloved Israeli artist, to illustrate our 'Notes of Spring' designer Matza cover and 'Young Detectives' designer Afikoman bag.

10 Plagues Game: Prepare the kids for the Seder and keep them engaged during the ceremony with our fun Ten Plagues game.

Bake Mini Matzah: Bake a mini Matza with our very own 'Mini Matza Maker' and add it to your Seder table! All it takes is 18 minutes from start to finish!

Count the Four Glasses: Keep track of the four glasses of the Seder with our floral felt cup counters. Six sets plus a bonus Elijah marker!

Passover Guide: Our original and colorful Days Passover Guide has 40 pages full of holiday traditions, with step-by-step instructions on how and what to prepare for the Seder.

Pre-order. Item ships for Passover delivery. Continental US shipping only. Rush shipping not available for this item.
Pesach in a box
Loved it for the kids! Arrived super fast!!
did not meet expectations
I did not find this kit very helpful in putting together our seder.
missing an element
The kit was fine, except I did not receive the 10 plagues game that was supposed to be in it. I discovered it on Saturday evening at the start of the seder and my grandson was very disappointed, as was I. You would have gotten five stars otherwise.
passover in a box
arrived quickly and my grandchildren loved opening up the box and examining all the interesting contents.