Oy Vey T-Shirt - Like On Modern Family
Secure Checkout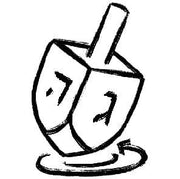 Easy Returns
Quick Shipping
Description

Oy Vey is an exclamation indicating dismay or grief, commonly heard among MOTs (especially at ModernTribe HQ when our shop-dog, Sammy, gets into the packing peanuts... again). Gott Im Himmel is yiddish for "G-d in Heaven" and follows Oy Vey when things are particularly alarming. Know someone who uses this expression or is going through a particularly trying time? This mug is good for expressing compassion a sharing a giggle.

Holds 11 oz.
More about ModernTribe
Items exclusive to ModernTribe!
Hanukkah present for my husband
My husband thought this shirt was hysterical when we saw it on Modern Family. I gave it to him tonight for Hanukkah. It is funny, but also a good looking shirt. High quality and comfortable.