Monopoly: Jerusalem Edition - Board Game In Hebrew and English
Secure Checkout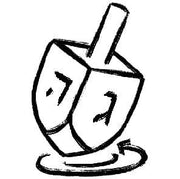 Easy Returns
Quick Shipping
Description

Trade in Biblical sites like the Mount of Olives for The Western Wall (Kotel) with MONOPOLY: Jerusalem Edition for 2-6 players ages 8 and up.

This made-in-Israel game edition is the perfect souvenir to buy for your family to remember your trip to Jerusalem forever. The game text, game guide, and fact sheet are printed in both Hebrew and English.

All players start on 'GO' and roll the dice. Each player makes decisions about when to buy and when to sell property. One player acts as the banker, paying out funds and assessing penalties as the game goes on. Landing on a property someone owns – a Jerusalem tourist attraction – means paying out rent. You can also build houses and hotels on property you own, which ups the required rent payments. When a player runs out of money, they go bankrupt!

Locations include:

David's Tomb
Teddy Stadium
Presidential Residence
Mamilla
Tower of David, Ammunition Hill, Mount Herzl
The Western Wall Tunnels
The Western Wall
The Kotel
The First Station
Montefiore Windmill
Old City Walls Promenade
Mea She'arim
The Hebrew University of Jerusalem
Lion's Gate
The Jerusalem Biblical Zoo
Chords Bridge
The Knesset
The Israel Museum
Mount of Olives
Mahane Yehuda Market
City of David.

This board game can bring Biblical locations to life. It also teaches some basic math and counting skills through all the wheeling and dealing among players. Monopoly: Jerusalem Edition can also be an effective Hebrew School teaching aid for children ages 8+.

All game boxes include: Game-board, 6 player tokens, 16 Community Chest Cards, Money Pack, 32 Green Houses, 12 Red Hotels, 2 Dice, Banker's Tray, fact sheet on Jerusalem sites and Game instructions.
More about ModernTribe
Items exclusive to ModernTribe!
Jerusalem Monopoly, a fabulous gift for a family of 9 children; all ages
This was the perfect gift. It was a pleasure purchasing through Modern Tribe, one stop shopping. Needed it delivered on time before a religious holiday started.
I paid a higher fee; but it was delivered on time. It is a wonderful website and easy to use. Thank you Modern Tribe.