Merry Jew Year's Eve-ukkah Tea Towel/ Challah Cover
Secure Checkout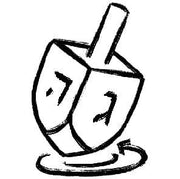 Easy Returns
Quick Shipping
Description

Vintage, 2016 Hanukkah! 

Yes, Hanukkah started on Christmas Eve and ended on New Year's Day in 2016! What do you bring the host or hostess of the party celebrating the last night of Hanukkah and New Year's Eve? The Merry Jew Year's Eve-ukkah Tea Towel along with the recipe for Manischewitz Champagne Spritzers. Done.

Celebrate this once in a lifetime Merry Jew Year's Eve-ukkah with this tea towel featuring gold and glittery confetti and the sounds of the season: Jingle, Sizzle, Pop.

Printed in Austin, TX. 26 x 20 inches. Do not iron directly on the image. 

Seasonal items are not available for return or exchange after Hanukkah.
More about ModernTribe
Items exclusive to ModernTribe!