Lovely Hues of Blue Hamsa Wall Hanging
Secure Checkout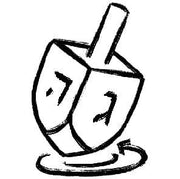 Easy Returns
Quick Shipping
Description

Your home is not complete without a hamsa hand amulet to usher in happiness, health, laughter and love.  This amulet, much like a hand, transmits this positive energy while at the same time pushing back the negative energy.

Come create a collection of hamsa wall art with these decorative wall hangings.

Vibrant blue chamsa has a lucky Nazar glass evil eye dangling from the finger, to watch over and protect you and all that reside in your home. Hamsa made from wood.

Wooden hamsa hand wall hangings
Glass blue Nazar evil eye
9" x 4"
More about Alef Bet
In 1996, Paula started Alef Bet Jewelry to disrupt the boring, dated Jewish jewelry that was on the market at the time. Empowered by the constant request of customers to create more and more designs of modern jewelry with a religious and spiritual feel, while maintaining a modern and fashionable look, she set out to fulfill your request. Today, Paula is joined by her daughter, Alissa and the two are inspired by current jewelry trends, but with a twist.

The designs have to touch your soul, create a personal story, or show your faith all without compromising style and quality. With jewelry durable enough to wear every day, there is no reason not to add a piece Alef Bet jewelry to your current line of accessories.
Cute and useful with one exception.
I really like the artwork on this hamsa plus the large evil eye pendant. I felt it's calm protection the minute I hung it up! The only exception/suggestion is that the reverse side of the hamsa is unfinished natural MDF board. I would paint or apply color, like a solid medium blue to the of the flat panel for a finished look.
So beautiful!
The wood is pretty thin, but the design is exactly like shown and seems to be very high quality. It's small but fits perfectly in my small apartment.
Hamsa
Loved this item. Great gift!