Liora Hurricane Star of David Candle Holder
Secure Checkout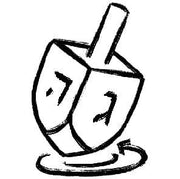 Easy Returns
Quick Shipping
Description

Taking the six-sided star to new heights, with glass and gilded metal crafted by artisans using centuries-old tools and techniques, the Liora Hurricane offers a beautiful way to bring a sacred icon into everyday living, holiday decorating, and celebrating Shabbat.

Styled on its own, as a pair, or in a group, Liora can be illuminated with pillar candles, votives, tapers, or twinkle lights. We love including soft nature elements like moss to playfully juxtapose the hurricane's crisp angles. Sold individually.

Dimensions: 8" x 5" each
Sold individually, accessories not included
Indoor use and flameless candles only. Not watertight; use a mister to maintain plants. Please handle it with care and wipe it clean with a damp cloth.

NOTE: The inside of the hurricane is an unfinished stainless steel in order to sustain exposure to hot wax, rocks, or other elements. Additionally, this vessel is not watertight; to use Liora for flower displays, we recommend searching for 2 inch diameter "glass vase for hurricanes".

Do not leave lit candles unattended.
More about Adara Rituals
Adara Rituals is a collection of Jewish ritual objects by Tara Townsend. Fed up with traditional decor, she started reading voraciously about the origins of Jewish rituals, and uncovered shining truths and mystical treasures that lay beneath the ground of our traditions. She learned about Judaism's roots in celestial cycles, in nature-based spirituality, and in an inclusive world-view that deeply embraces the Divine Feminine. Adara, named after her daughter's Hebrew name, provides beautifully crafted pieces to enliven and illuminate your own rituals.