Linda's Gourmet Latkes, Gluten Free or Original - Large
Secure Checkout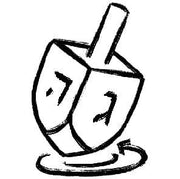 Easy Returns
Quick Shipping
Description

Linda's Gourmet Latkes are handmade and they taste homemade! 

Your order includes 48 Original Large latkes. They are sold frozen and reheat in the oven perfectly crispy in 8-10 minutes. Choose Original or Gluten Free. 

Gluten-free are cooked with gluten-free ingredients in fresh oil, but not in a gluten-free environment. 

They were selected for Oprah Magazine's Holiday O List 2010 and 2014, Real Simple Magazine's Holiday Gift Guide 2009, and have been praised in the New York Times. No need to fuss any more with shredding potatoes and frying, just heat and serve!

Serve with applesauce or sour cream or top with smoked salmon or caviar and creme fraiche for an elegant side dish. Star K, Pareve. Latkes will stay fresh in the freezer up to 1 year.

Free shipping included! Latkes will ship two day in the continental US only, Monday through Wednesday. Make sure you/the latke recipient is home to receive the latkes.